Sentry Dog Nemo-A534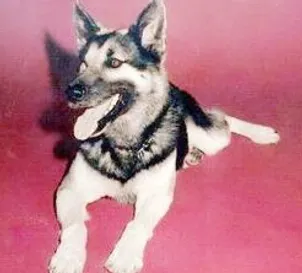 Predawn hours of December 4, 1966, Tan Son Nhut Air Base, Republic of Vietnam was attacked by a large force of Viet Cong commandos. The Air Base was hit by approximately 60 mortars. The size of the Viet Cong infiltration force was believed to have been over 75 saboteurs.
Once inside the base, the enemy divided into smaller groups to attack their targets. Several sentry dog teams stationed on perimeter posts gave the initial alert and warning almost simultaneously. This early warning enabled security forces to repel the attack, minimizing damage to aircraft and facilities.
During the assault, one handler and three sentry dogs were killed. The attack had been thwarted, and now it was time to secure the base as daylight approached.
A sweep of the area met with negative results. Additional sentry dog teams were deployed, resulting in the discovery and elimination of additional VC hiding underground.
Before help could arrive, Nemo, an 85-pound German shepherd, although severely wounded, protected his handler by crawling across his body and guarding him against anyone who dared to come near. Nemo was later retired from active service.
The 377th Security Police Squadron was awarded the Air Force Outstanding Unit Award for its heroic valor against the Viet Cong infiltration force.
Retirement and Legacy
Nemo was returned to the United States on July 22, 1967, and retired at the Department of Defense Dog Center, Lackland AFB, Texas. Nemo spent his retirement years there and was frequently taken on tours throughout the United States to assist in the procurement of military working dogs.
Nemo, the Vietnam War Hero, passed away in December 1972 and was laid to rest on March 15, 1973, at the DoD Dog Center.